Permanent link to this article: http://www.democraticwomenofthedesert.org/december-holiday-party/
Permanent link to this article: http://www.democraticwomenofthedesert.org/make-a-payment-through-actblue-here/
PRESS RELEASE
November 18, 2015
SAN FRANCISCO – With Black Friday and Cyber Monday fast approaching, Attorney General Kamala D. Harris today issued consumer tips for safe shopping this holiday season.
The holidays are a festive time of the year that unfortunately leave consumers vulnerable to monetary scams and online hackers. This season's online holiday sales are predicted to reach a record $83 billion, with consumers spending a combined $6 billion online on Black Friday and Cyber Monday. Attorney General Harris offers the following tips for consumers to protect themselves during the holiday season.
Permanent link to this article: http://www.democraticwomenofthedesert.org/attorney-general-kamala-d-harris-issues-consumer-tips-on-safe-shopping-during-black-friday-cyber-monday-and-the-holiday-shopping-season/
Courtesy of theguardian.com, by the AP in Salt Lake City.  November 17, 2015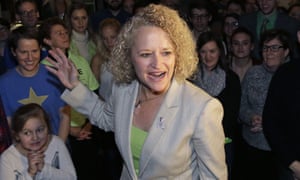 Photograph: Rick Bowmer/AP
The former Utah state lawmaker Jackie Biskupski has become the first openly gay mayor of Salt Lake City – capital of the conservative state where the Mormon church and a small town judge delivered setbacks last week to the LGBT community.
Official election results showed Biskupski won 52% of the votes to defeat two-term incumbent Ralph Becker. The victory by Biskupski marked a milestone for LGBT people in Utah who have made major strides in recent years.
"Today is not just about making history," Biskupski said. "It is about people. It is about effecting change."
Her supporters cheered when the results were read. Becker showed no reaction but later congratulated Biskupski and vowedg to work with her to ensure a smooth transition.
"Serving as mayor of Salt Lake City has been the richest working experience of my life," Becker told reporters. "It has been an unparalleled privilege and honor to serve in this role for eight years."
Biskupski takes over after progress on gay rights was temporarily marred in recent weeks when a judge ordered a foster child to be removed from a lesbian couple and placed with a heterosexual couple. The judge cited the child's wellbeing as the reason for his order.
The ruling set off a firestorm around the state and nation. The judge then reversed his decision and took himself off the case.
Days earlier the Salt Lake City-based Mormon church issued new rules targeting gay members and their children, prompting widespread backlash. The new policy bans baptisms until the children of gay parents turn 18 and disavow same-sex relationships.
Biskupski is not a member of the Church of Jesus Christ of Latter-day Saints and said she hoped the faith would reconsider the policy. She said one of her goals as mayor was to meet with church leaders and discuss the new rules.
Biskupski, who became Utah's first openly gay lawmaker in 1998, declined to discuss the church's policy further on Tuesday, saying she wanted to meet with Mormon officials first.
Salt Lake City is a liberal island in the state where no Republican has been elected mayor in four decades. Gay rights group Equality Utah endorsed both Becker and Biskupski.
Becker has been called an ally of the LGBT community, helping pass a 2009 city anti-discrimination ordinance. He also officiated at dozens of the first gay marriages in 2013 in the hours after a surprising ruling overturned Utah's same-sex marriage ban.
Salt Lake City voters also elected Derek Kitchen, who became the second gay member of the city council, election results showed.
He and his husband, Moudi Sbeity, were one of three couples who sued to overturn the state's same-sex marriage ban.
Permanent link to this article: http://www.democraticwomenofthedesert.org/salt-lake-city-just-elected-its-first-openly-gay-mayor/
Permanent link to this article: http://www.democraticwomenofthedesert.org/dwd-recommendations-for-november-2015/
Permanent link to this article: http://www.democraticwomenofthedesert.org/new-california-motor-voter-law/
(courtesy of theGuardian.com, October 19, 2015)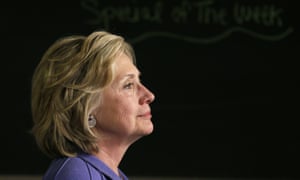 (Photograph: Charlie Neibergall/AP Photo)
I know Hillary Clinton mostly in the way we all do, as a public figure in good times and bad, one who became part of our lives and even our dreams. I once introduced her to a thousand women in a hotel ballroom. Standing behind her as she spoke, I could see the binder on the lectern with her speech carefully laid out – and also that she wasn't reading from it. Instead, she was responding to people who had spoken before her, addressing activists and leaders she saw in the audience, and putting their work in a national and global context – all in such clear and graceful sentences that no one would have guessed she hadn't written them in advance. It was an on-the-spot tour de force, perhaps the best I've ever heard.
But what clinched it for me was listening to her speak after a performance of Eve Ensler's play Necessary Targets, based on interviews with women in one of the camps set up to treat women who had endured unspeakable suffering, humiliation, and torture in the ethnic wars within the former Yugoslavia. To speak to an audience that had just heard these heartbreaking horrors seemed impossible for anyone, and Hillary had the added burden of representing the Clinton administration, which had been criticised for slowness in stopping this genocide. Nonetheless, she rose in the silence, with no possibility of preparing, and began to speak quietly – about suffering, about the importance of serving as witnesses to suffering. Most crucial of all, she admitted this country's slowness in intervening. By the time she sat down, she had brought the audience together and given us all a shared meeting place: the simple truth.
Permanent link to this article: http://www.democraticwomenofthedesert.org/gloria-steinem-why-the-white-house-needs-hillary-clinton/
Permanent link to this article: http://www.democraticwomenofthedesert.org/garcia-coachella-office-grand-opening-october-15th/
Garcia's legislative package will bring environmental and economic relief to both Coachella Valley and Imperial Valley
PRESS RELEASE, Monday, October 12, 2015
(COACHELLA, CA) –With the Governor's signing deadline ending yesterday, and in the midst of the baseball playoffs, local Assemblymember Eduardo Garcia (D-Coachella) went 16 for 16 this legislative season and had all of his bills and resolutions signed by Governor Brown.  Topping his bill list were measures that would not only bring environmental and economic relief to the areas of the Coachella and Imperial Valleys such as the Salton Sea and New River, but also workforce training and financial assistance to small businesses in the district.
"We made our case in Sacramento for the people of the 56th District–and by having Governor Brown sign all of my legislative proposals, we will now have the opportunity to begin and implement the environmental and economic improvements that our people so rightfully deserve," said Assemblymember Eduardo Garcia. "I owe this victory to the hard working people of our Desert Valley area and I applaud and thank the Governor for recognizing the much needed relief to our region."
Below are Assemblymember Garcia's legislative proposals that were enacted and signed by Governor Brown:
·

      
AB 2: Community Revitalization Investment Authorities:
This bill will allow specified "disadvantaged" areas throughout the state to create their own Community Revitalization Investment Authorities (CRIA). Each CRIA would allow property tax investments of consenting local agencies to, among other things, improve neighborhood conditions, increase employment opportunities, and reduce crime rates. Since the dissolution of redevelopment agencies (RDA), cities across California had been looking for more economic development tools to utilize and AB 2 will now bring the needed relief to these areas resulting in the improvement of cities and neighborhoods.
Permanent link to this article: http://www.democraticwomenofthedesert.org/jerry-brown-signs-all-of-assemblymember-garcias-bills/
September 2, 2015, Los Angeles Times

Atty. Gen. Kamala Harris, center, unveils her "Open Justice" initiative in Los Angeles. With her are Los Angeles Police Chief Charlie Beck and U.S. Rep. Karen Bass (D-L.A.). (Mark Boster / Los Angeles Times)
Public can now see California data on arrests and deaths in police custody
By JOEL RUBIN
Saying that increased transparency can help ease tensions between police and the public, California Atty. Gen. Kamala Harris on Wednesday unlocked state databases on police killings and arrests, while saying law enforcement agencies should be required to report more information about incidents involving force.
"The California Department of Justice sits on a trove of data, a treasure trove of data," Harris said at a news conference in Los Angeles. "The spirit behind this is that we want to share this with the public in a way that can encourage better public policy."
Dubbed by Harris as the "Open Justice" initiative, her plan is built around a website that gives the public access to three sets of data collected by the department: people who die while in custody; arrests and bookings; and police officers killed or injured on duty.
Harris also said she supports a bill being debated by lawmakers that would increase reporting requirements for police. Under the proposed law, departments would have to report to the Department of Justice on all cases in which people are seriously injured by officers in shootings or other uses of force.
Permanent link to this article: http://www.democraticwomenofthedesert.org/kamala-harris-open-justice-initiative/